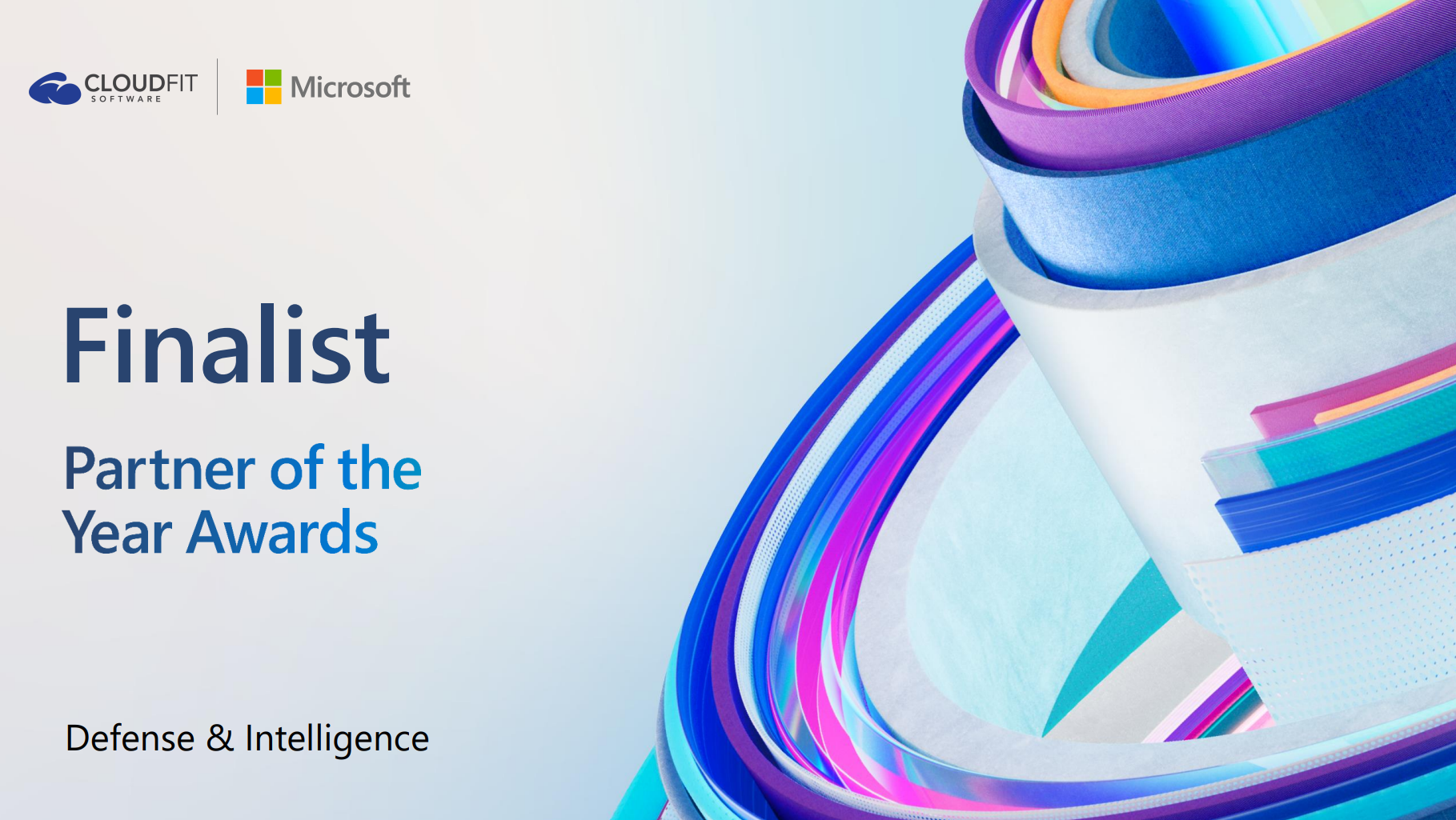 | Carroll Moon
CloudFit Software recognized as a finalist for the 2023 Microsoft Defense & Intelligence Partner of the Year
LYNCHBURG, Virginia, United States — June 27, 2023 — CloudFit Software today announced it has been named a finalist of Defense & Intelligence 2023 Microsoft Partner of the Year Award. The company was honored among a global field of top Microsoft partners for demonstrating excellence in innovation and implementation of customer solutions based on Microsoft technology.
"On behalf of our CloudFit team, we're honored and humbled to receive this award. Our deep Microsoft partnership is the key force multiplier allowing us to innovate and scale rapidly to support the constantly evolving mission needs of our Defense and Intel customers. We look forward to continuing to enable digital transformation and secure cyber solutions across the DOD, Intel and DIB communities in service to our warfighters." said Joe Martin, Chief Executive Officer.
Microsoft Partner of the Year Awards recognize Microsoft partners that have developed and delivered outstanding Microsoft-based applications, services and devices during the past year. Awards were classified in various categories, with honorees chosen from a set of more than 4,200 submitted nominations from more than 100 countries worldwide. CloudFit Software was recognized for providing outstanding solutions and services in Defense & Intelligence.
"Congratulations to the winners and finalists of the 2023 Microsoft Partner of the Year Awards!" said Nicole Dezen, Chief Partner Officer and Corporate Vice President of Global Partner Solutions at Microsoft. "The innovative new solutions and services that positively impact customers and enable digital transformation from this year's winners demonstrate the best of what's possible with the Microsoft Cloud."
The Microsoft Partner of the Year Awards are announced annually prior to the company's global partner conference, Microsoft Inspire, which will take place on July 18-19 this year. Additional details on the 2023 awards are available on the Microsoft Partner blog: https://aka.ms/POTYA2023_announcement. The complete list of categories, winners and finalists can be found at https://partner.microsoft.com/en-US/inspire/awards/winners.
About CloudFit Software:
CloudFit Software, Inc was founded in March of 2018 and merged with Composable Systems, LLC in August of 2018 to form CloudFit Software, LLC. CloudFit is now leading the market in "Managed Scenarios" for cloud across Fortune 500, DoD and Regulated Industries. While CloudFit primarily exists to implement, manage and secure critical services and applications to the cloud, it has a great mission with its charities: KidFit — uses athletics as a conduit to provide mentorship and opportunities for all kids regardless of their ability to play and JobFit — lowers barriers for high school and college students to achieve great IT careers.
For additional information: Contact CloudFit Software via email getfit@cloudfitsoftware.com or call 434-548-0015.
---