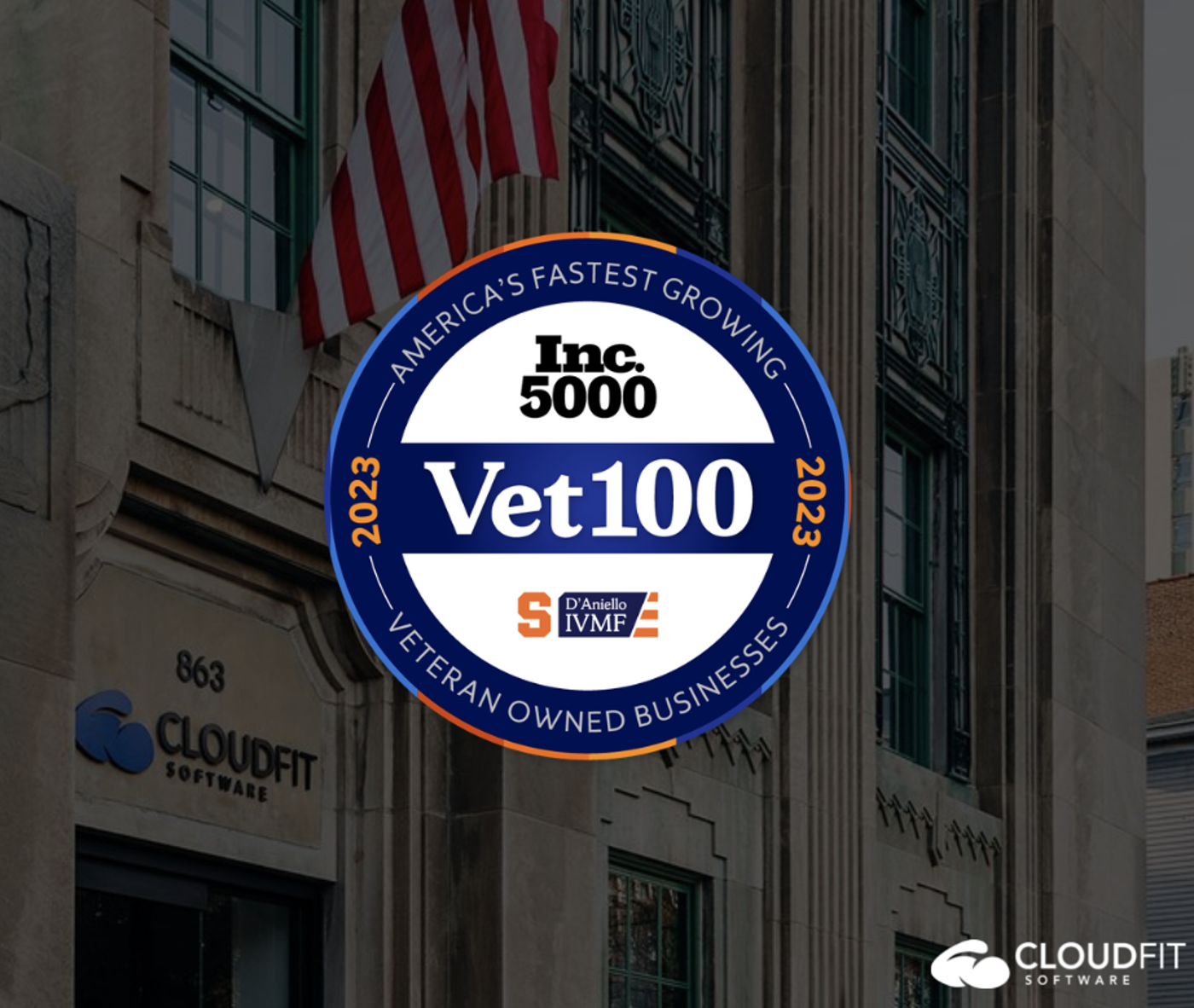 | Carroll Moon
CloudFit Software Recognized in Honorable Vet100
We are absolutely thrilled to accomplish this momentous achievement once again! We take great pride in not only being a fast-growing veteran-owned company, but also in our support of veterans and active-duty service members. As we reflect on this recognition, we'd like to hear from some of our CloudFit veterans on what this honor means to them:
"It is a really cool honor to hear that CloudFit Software has been recognized as a 2021 Vet100 honoree. It's really great to receive this recognition as CloudFit Software heavily focuses on serving our warfighters locally and abroad," said Michael Strobel, a Managed Engineering Team Lead at CloudFit Software. "I'm grateful for the leadership and vision of the CloudFit Software executive team (including Joe Martin – who is also a veteran) on leading CloudFit through the growth we have seen over the last 4 years. I'm grateful to be a part CloudFit and excited to continue supporting our mission of running every critical application on the planet."
"There is a lot of uncertainty for Veterans when they leave the Service. It can be a difficult decision and a challenging adjustment. Most of us have to start over in new careers, learning new skills. Having a company like CloudFit participating in the post-service network of Veterans helping Veterans is a blessing. CloudFit understands our potential and that the value of our former service manifests as the flexibility to learn, continued desire to serve, motivation to achieve and the discipline to get things done. By taking a chance on us, they inspire the loyalty and hard work that it takes to grow rapidly and perform at a high level. I'm very proud to be a part of CloudFit!" said Cassidy Aragon, Program Manager at CloudFit Software.
"There are so many reasons why this recognition makes me proud to be a member of the CloudFit family. It means our company continues to grow and deliver world-class service to our DoD and commercial companies….all wonderful reasons to be a proud member of CloudFit! BUT, the most significant reason why I am proud to be a part of the CloudFit family is the way we approach completing the mission and creating a strong culture of taking care of our employees which makes me most proud. Motivational speaker, Simon Sinek has said "The responsibility of a company is to serve the customer. The responsibility of leadership is to serve their people so that their people may better serve the customer. If leaders fail to serve their people first, both customer and company will suffer." As someone who spent 25 years in the United States Air Force serving our country, we ALWAYS worked hard to accomplish our mission, but I also worked to ensure the life and work needs of my Airmen were a priority and I tried to create a culture where Airmen felt valued and understood they were THE key component to the units' success. While hard work is always a key to being successful, driving people into the dirt for the sole reason of working hard was never something I enjoyed, and I tried to shield my Airmen from that as best as I could. When I began working at CloudFit, it was clear the leaders of our company thought the same way I did, and it was refreshing to see this attitude pervasive at CloudFit as a key component of the culture we were creating. Not a meeting goes by where Carroll doesn't emphasize how the company is just a piece of paper and that the people and the culture, we're creating is what is driving the success of CloudFit!" said Dale Reed, Program Engineering Team Lead at CloudFit Software.
"As a veteran, I LOVE working at CloudFit! Every day we are taking care of our people and our employees strive to not just complete work but overdeliver and accomplish things no other company has been able to do…..we are writing history each day! CloudFit's stellar reputation of outstanding customer service, providing twice the value at half the cost, and our SERVE mentality are why our customers keep coming back and why they keep telling other businesses about us. As a veteran, I still get to serve our country while working on our DoD contracts and I get to ensure we are the contractors I always wished I had when I was on active duty." continues Dale. "I cannot overstate enough, our people are making history through their hard work, can-do attitude, and knowing they are fully supported and cared for by our company leaders. I have seen the proof time and again, when a worker feels valued and understands their leaders have their best interests in mind, there is no limit to what that person can do and no lengths that they will not go to help the unit (company) be successful. I believe this is one of the key factors why CloudFit has been recognized year after year as one of the fastest-growing Veteran-owned businesses on the Vet100 list and I am excited to see what the future holds for us all."
Please join us in recognizing our amazing veterans at CloudFit Software:
Cassidy Aragon
Charles Cain
Shawn Hartman
John Kupko
Michael Langley
Joe Martin
Lucas Nassef
Bryan Phillips
Dale Reed
Mike Strobel
Ryan Tuttle
Jonathan Warren
Ivan Zimmerman
We are forever grateful and thankful for your service.
---