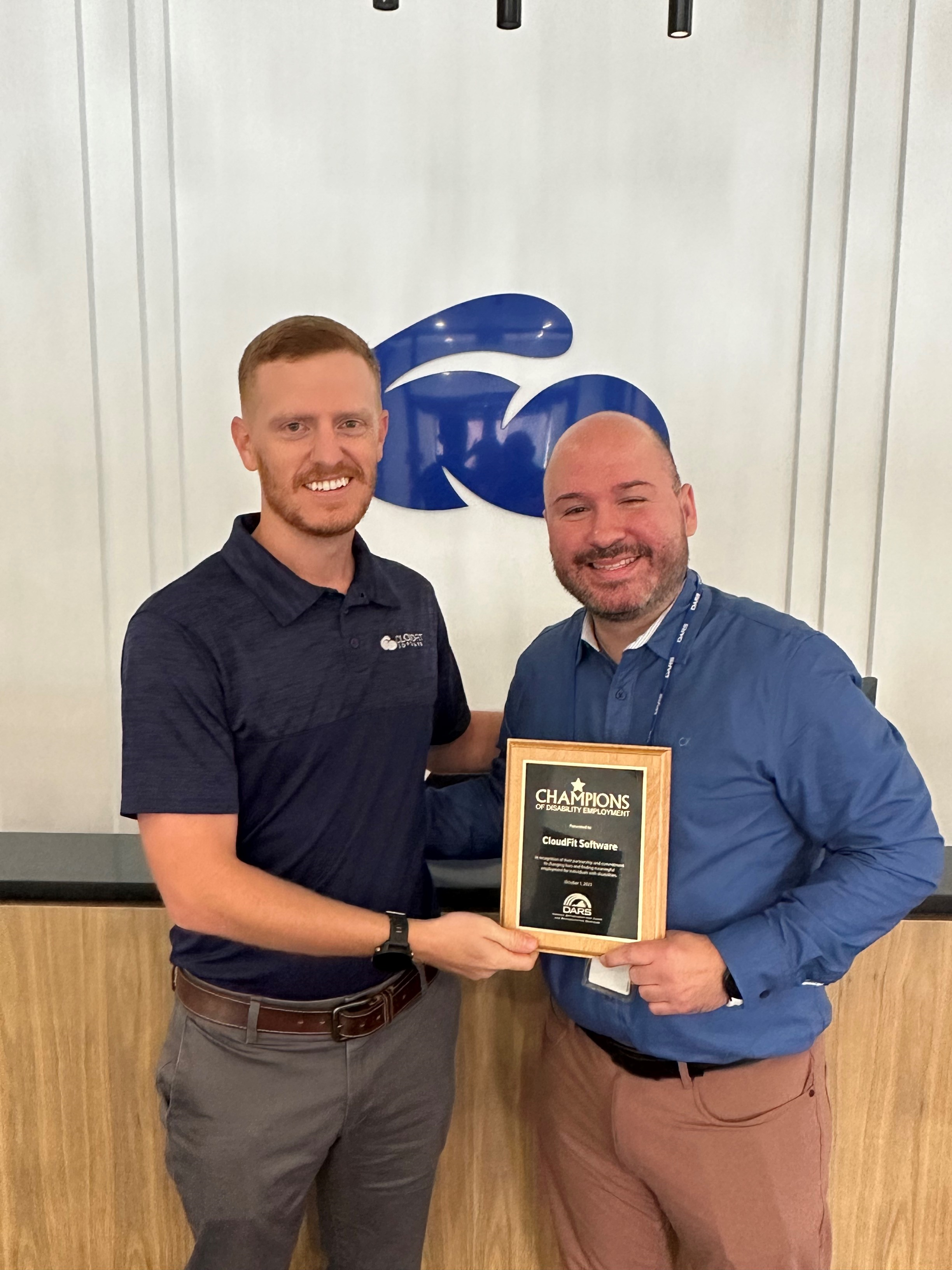 | Carroll Moon
Celebrating Inclusivity: CloudFit Receives the Champions of Disability Award 2023
At CloudFit, we believe in the power of inclusivity and the strength that diversity brings to our community. It is with great pride and joy that we announce our receipt of the Champions of Disability Award 2023 from the Virginia Department for Aging and Rehabilitative Services (DARS). This prestigious statewide recognition is a testament to our unwavering commitment to supporting the employment, quality of life, security, and independence of Virginians with disabilities, and their families.
A Glimpse into Our Contributions
Our journey toward inclusivity has been marked by various initiatives, each aimed at fostering a supportive environment for individuals with disabilities. Through our collaboration with DARS, we have engaged in numerous activities, including:
Informational Interviews and Workshops: We conducted 20 informational interviews with students through JobFit, providing valuable insights into the professional world. Additionally, our team actively participated in local workshops, sharing knowledge and expertise with the community.
Educational Tours: We opened our doors to staff and students, offering tours of CloudFit. These immersive experiences allowed participants to gain firsthand knowledge of our work environment and industry.
Pathways to Employment: Recognizing the need for structured guidance, we created detailed job descriptions and tech guides for roles such as Helpdesk, Site Reliability Engineers (SRE), and Developers. These resources were provided to DARS clients, offering clear pathways to employment.
Exploring Vocational Opportunities: We explored vocational opportunities by visiting the Wilson Workforce and Rehabilitation Center in Fishersville, VA. This visit provided us with a deeper understanding of the resources available, enabling us to better assist individuals in their employment journey.
DARS: Empowering Lives, Fostering Independence
DARS plays a vital role in improving the lives of individuals with disabilities; focusing on vocational rehabilitation to assist people in preparing for, securing, retaining, or regaining employment. This partnership has allowed us to actively participate in programs and initiatives that make a meaningful difference in the lives of those in our community.
Through its Division of Rehabilitative Services (DRS), the department offers comprehensive vocational rehabilitation services, providing vital support in various ways such as physical and mental restoration, vocational evaluation/career exploration, vocational/job training, job placement assistance, situational assessment, and job development/job coaching.
Championing Diversity
Receiving the Champions of Disability Award 2023 is a humbling experience for us at CloudFit. It reaffirms our belief in the transformative power of inclusivity and the importance of serving one another. This award signifies not just an achievement, but a shared commitment to fostering a society where everyone, regardless of their abilities, has equal opportunities to thrive. As we continue this journey, we remain dedicated to creating workplaces that are not only accessible but also welcoming, ensuring that every individual's potential is recognized and valued.
In the spirit of collaboration and inclusivity, we extend our heartfelt gratitude to DARS for their unwavering dedication and support. Together, we are making significant strides towards a more inclusive and equal future for all.
---