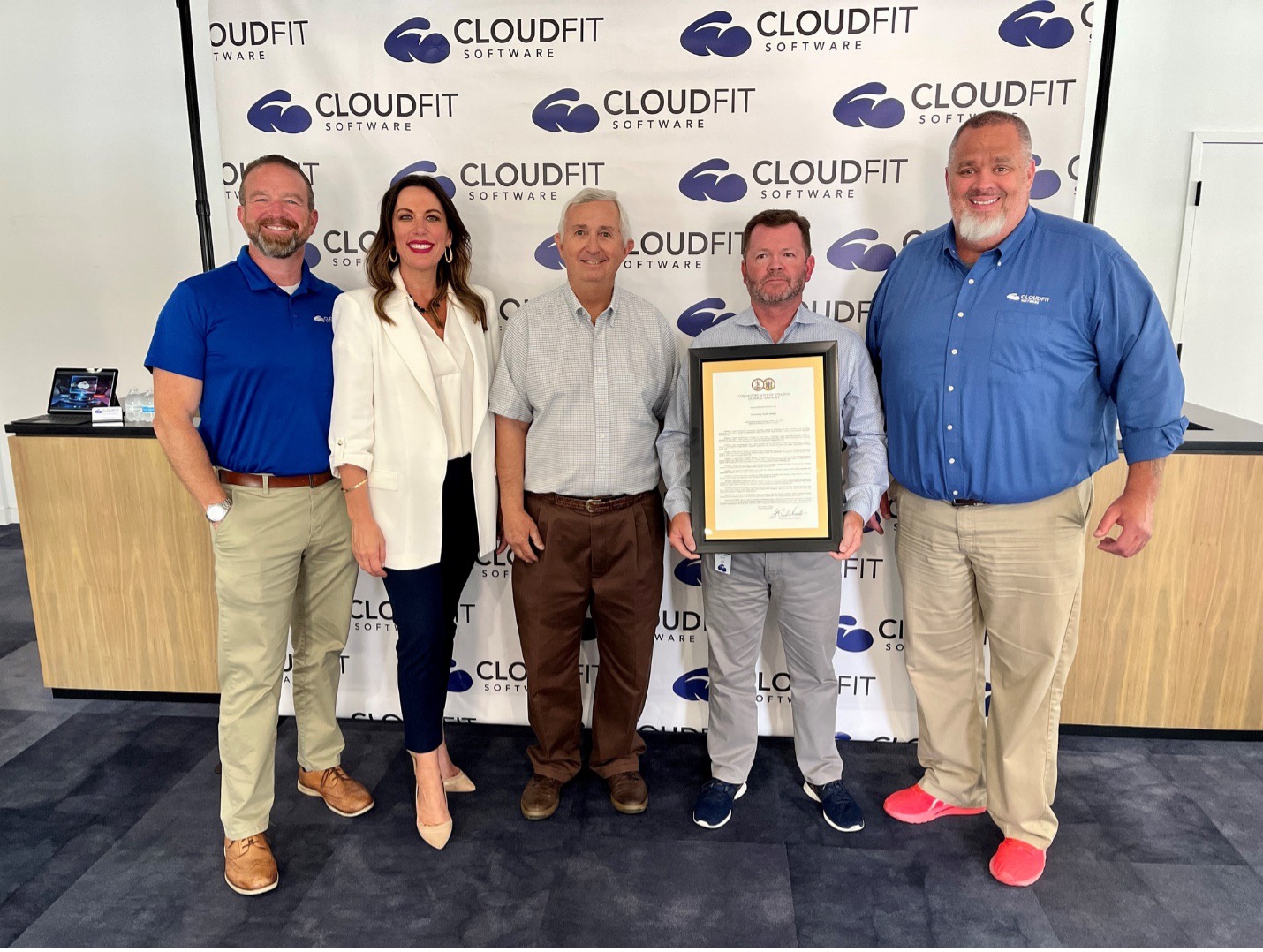 | Carroll Moon
CloudFit Software Receives Commending Resolution for Partnered KidFit and JobFit Initiatives
Recently, CloudFit was presented with a commendation from the Virginia State Legislature, acknowledging our outstanding contributions within the tech field and our relentless efforts to give back to the Lynchburg community. This prestigious resolution was personally delivered by Delegate Wendell Walker with the honorable presence of Mayor Stephanie Reed. Not only are we incredibly grateful to receive incredible support from our community, but we are also elated to have been integrated so well into this place that we call home.
More than tech
CloudFit's goal has always been more than tech. Of course, we absolutely love the space we're in and the support that we're able to provide for our customers. But being in this space allows us to give back to our community and create a positive impact for many people.
When CloudFit began to bloom, Carroll Moon, our Chief Technology Officer, always had his sights on Lynchburg for our home. "My family has been farming in Virginia since the 1600s," said Carroll when expressing his gratitude to the team. "We love Virginia. I don't think I can overstate the feeling my family has for our home. So, this is very meaningful for me. I spent my life trying to make my dad, who passed away in 2003, and my grandfather, who passed away in 2012, proud. Those men loved Virginia. Since I couldn't tell them, I texted my aunt to tell her. She texted me back 5 minutes later to say that it made her cry because they would have been so proud. So then, I started crying in my office."
Through our partnered non-profits, KidFit and JobFit, we've provided opportunities for the entire CloudFit team to give back to our community while changing the lives of our future leaders. "We set out to do more than just CloudFit, CloudFit is a means to an end, not the end itself," Carroll stated while accepting this recognition from the General Assembly.
Providing Hope and Opportunity through KidFit
KidFit is one of our partnered non-profit organizations with a dedicated mission to provide mentorship and opportunities for children from diverse backgrounds to make a lasting impact. By offering mentorship programs and athletic opportunities, KidFit empowers children to grow socially and athletically, fostering their personal development. Through skilled training and exceptional coaching, children not only excel in their chosen sports but also forge meaningful relationships with their peers.
Additionally, KidFit collaborates with organizations, like the Jubilee Center, to introduce camps and similar initiatives to the Lynchburg community. As KidFit looks to the future its vision encompasses a KidFit presence in every community, ensuring that children across the nation receive the guidance and opportunities they need to thrive.
KidFit has achieved notable victories recently, including becoming the USA Track and Field Youth u18 4x400M Indoor National Champions and the Nike Outdoor Nationals Men's Emerging Elite 4x400M National Champions, with a second-place finish in the Emerging Elite 4x100M category. Additionally, KidFit has also mentored the number one Offensive Tackle in the 2022 high school class, who is now playing at UNC, and the number one Running Back in the 2025 high school class, who has committed to Clemson.
However, their success goes beyond mere accolades. KidFit's positive impact on youth has been evident in helping them secure valuable playing time on their respective teams. Equally significant is the fact that KidFit has served as a source of inspiration for young athletes, with over 400 training sessions conducted in the last year and an impressive tally of 2,000 training sessions over the past five years!
Learn more about KidFit and these amazing opportunities here: https://kidfitministries.org/.
Providing Experience and Learning through JobFit
JobFit is another one of our partnered non-profits that provides experience and learning opportunities to high school students, college students, and career changers in the tech field. Recognizing the importance of a person's eagerness to learn, dedication, and aptitude for technology, JobFit equips individuals with job-ready skills through comprehensive training programs.
By collaborating with local STEM academies, high schools, and Central Virginia Community College, JobFit exposes students to various IT domains that align with their inherent passions. This exposure helps high school students make informed decisions about their future studies or career paths. For college students and career changers, JobFit offers internships with CloudFit, providing hands-on learning experiences and mentorship from experienced CloudFit employees. These internships cover a range of tech fields, enabling participants to gain practical skills and industry experience. Moreover, JobFit partners with senior-year capstone students from Liberty University, allowing them to tackle real-world technical challenges collectively as a team, demonstrating the knowledge gained through their studies. By providing these diverse opportunities for experiential learning, JobFit aims to prepare individuals for their future endeavors and ensure they thrive in the ever-evolving world of technology.
"I have always been passionate about technology and how it can transform lives for the better. That's why I love teaching others the skills and knowledge they need to succeed in the digital world," said Matt Loflin, VP of Managed Engineering at CloudFit. "Volunteering with JobFit enables me to give back to others in the form of Teaching Tech to Kids, High Schoolers, College Students, and Career Changers. I look forward to the day where one of the elementary students we work with comes and works with us in tech!"
The JobFit program has helped many individuals become successful and helped some gain internships and full-time roles at renowned organizations such as Google, Space Force, HP, Dell, and Delta to name a few. Discover more about the JobFit program here: https://jobfit.online/.
Looking Ahead
As we reflect on this momentous occasion, we would like to extend our heartlet gratitude to our incredible team, whose unwavering passion and dedication have propelled us to this remarkable achievement. We would also like to express our appreciation to the Virginia state legislature, Delegate Wendell Walker, and Mayor Stephanie Reed for their presence and recognition of our contributions to the Lynchburg community. View the full text of the resolution online here: Bill Tracking - 2023 session > Legislation (virginia.gov).
For more information about CloudFit, or any of our partnered non-profit organizations, contact getfit@cloudfitsoftware.com.
---