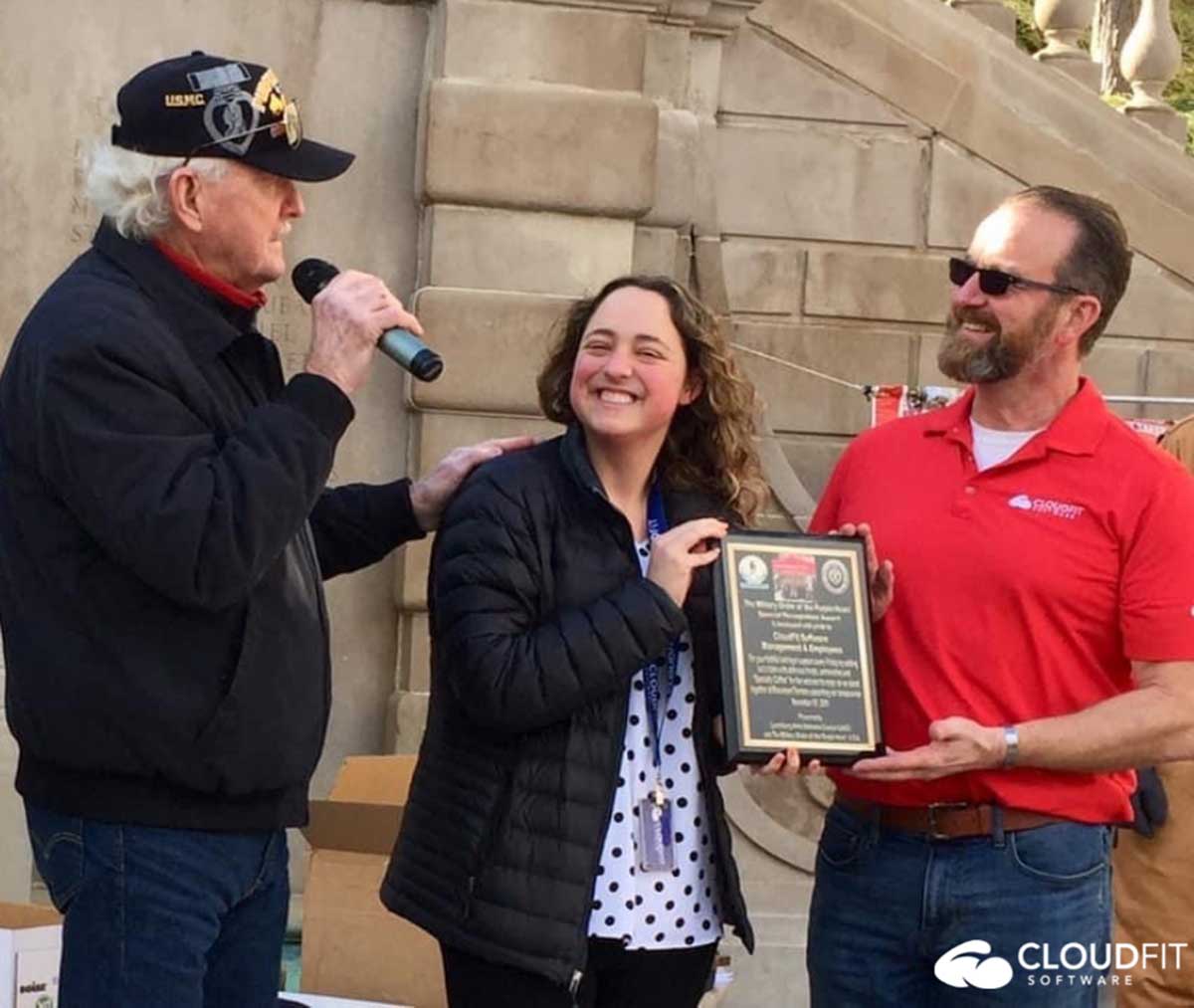 | Carroll Moon
CloudFit Software Receives the Military Order of the Purple Heart Special Recognition Award
On Friday January 20th, CloudFit Software received the Military Order of the Purple Heart Special Recognition Award and was presented a plaque from the Lynchburg Area Veterans Council (LAVC) and The Military Order of the Purple Heart, USA. Not only are we thrilled to receive this acknowledgement, but we are also deeply appreciative that our endeavors to engage and connect with our Lynchburg Veterans have not gone unrecognized.
"We are truly blessed to have next to Monument Terrace the CloudFit Software Company that has been setting out a table with delicious sandwiches, sweet treats and "specialty coffee" ever since the renovated to old Carter Glass Building and moved in." the leaders of the Friday Monument Terrace Veterans Rally stated. "You have made a special "Red Tent" for us during hot and rainy days and set the table up…First Class all the way. So, we had a wooden plaque made up to say "Thanks" for what the management and employees have done to support our rally every week."
Our very own (Retired Colonel) Dale Reed, US Air Force Veteran and Program Engineering Lead, and Lexie Jiou, Facilities Coordinator, were present to accept this award. "As you know, coffee and vets are almost synonymous….and they really enjoy Alan Perkins' special coffee…..their one request, "keep the coffee coming!"", commented Dale.
When presented the award by the Veterans group, Dale stated, "CloudFit is honored to SERVE our Veteran community and are humbled by this award. Our company founders only wish to serve those who fought to protect our country and freedom, receiving this award was not expected but greatly appreciated." Lexie, who also serves as the CloudFit Canteen Commander, expressed her gratitude to the veterans in attendance and stated that it was an honor to help serve them each week. "We are just honored to serve you all and honored to receive this recognition, thank you!" stated Lexie.
Last November, we were honored to receive a spot in the annual Vet100 list—a compilation of the nation's fastest growing veteran-owned businesses. Our founders and team at CloudFit are dedicated to supporting veterans by giving back to the community. The relationships we've formed with our Lynchburg veterans are exceptional and uplifting. To our veterans in Lynchburg and across the country, thank you for all that you do. CloudFit Software will always be here to support and serve you.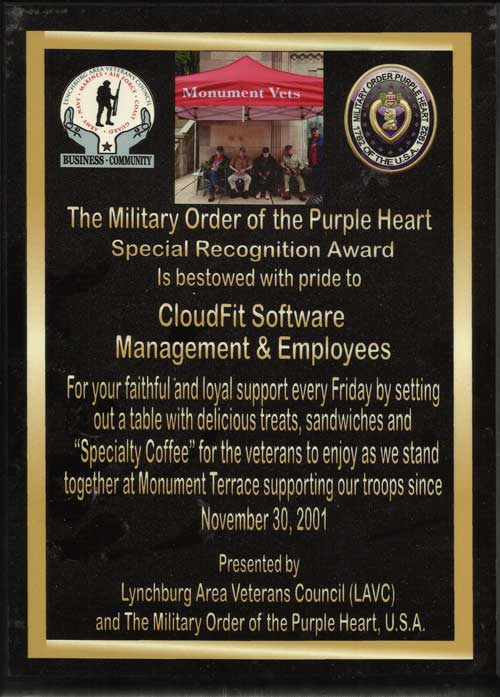 ---